Our agency strives to offer choice to our clients by offering a variety of different coverage options and policies. Most agencies can only provide a quote with one carrier for one particular type of policy. We don't believe insurance should be a one size fits all product. Therefore, our agency represents multiple national and regional insurance carriers to meet your personal and commercial insurance needs while giving you options in regard to coverage and price.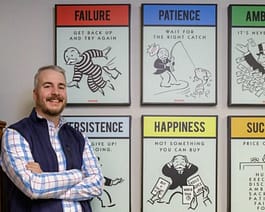 About Derek Wiley, Principal Agent & Owner
I am a native of Botetourt County, Virginia. I attended James River High School and was a Distinguished Graduate with a Bachelor of Arts Degree from the Virginia Military Institute where I served four years in Army ROTC.
I started my career in the insurance industry with Progressive Insurance as a claims adjuster. I later became a Senior Litigation Representative for Atlantic Mutual and Ace Private Risk Services.
Derek Wiley Agency initially began as an exclusive agency representing Allstate Insurance. However, I soon discovered that my clients would be better served if they were offered coverage and price options with several different insurance companies. Therefore, I opened an independent insurance agency and began offering my customers an array of insurance products from some of the best insurance carriers in the country.
​Today that agency has evolved to become Derek Wiley Agency I'm proud to be the owner of a truly independent insurance agency with the ability to offer customers multiple coverage options and quotes from different insurance carriers. I have over a decade of experience in the insurance industry and my claims and agency backgrounds have equipped me with the knowledge to tailor insurance solutions to meet all my client's personal and business insurance needs.
​I look forward to working with you and answering all of your coverage questions.
​​I currently reside in Botetourt County, Virginia with my wife Christina and our sons Ryan and Declan.
An Independent Advantage
We are Independent Agents in Daleville, Virginia, free to choose the best carrier for your insurance needs. We do not work for an insurance company; we work for you. We work on your side when you have a loss and follow through to see that you get fair, prompt payment and service. Derek Wiley Agency, Inc. represents a carefully selected group of financially strong, reputable insurance companies. Therefore, we are able to offer you the best coverage at the most competitive price.
What is an Independent Insurance Agent?
When you decide to buy a car, you wouldn't purchase the first one you see. What if one day the automobile industry decided to make only one type of car, one make and one model. You wouldn't have a choice!
The same situation holds true for insurance. You need insurance to drive a car, to purchase a house, to protect your family's financial future and to run a small business. But if there was only one insurance company that offered only one type of insurance, you wouldn't have a choice. The only solution would be going to that one company.
With an independent insurance agent, you have choices. Independent agents are not tied to any one insurance company. One of the advantages of using an independent agent is that he or she works to satisfy your needs. You are using an expert for an important financial decision.
An independent agent has several companies that he or she can approach to get you the best coverage at the best price. And your independent agent will know the companies with the most efficient claims departments to recover your losses as quickly as possible.
When you buy insurance, you want an advocate who will properly assess the risks you face and give you an objective analysis of the marketplace, because it's up to you to make the final choice.